van Leeuwen & Aas Productions
White background
Nederlands
Norsk
PDF About Us
LA Productions is a media production and -technology company. LA Productions is specialized in producing media solutions for TV and Internet. We also offers premium voice-overs known from current TV programs from our broad network of TV contacts in the Netherlands and abroad to our customers.
The balanced combination of our regular team combined with a carefully selected group of freelancers, guarantees the best result for each client with an optimal time-line and cost.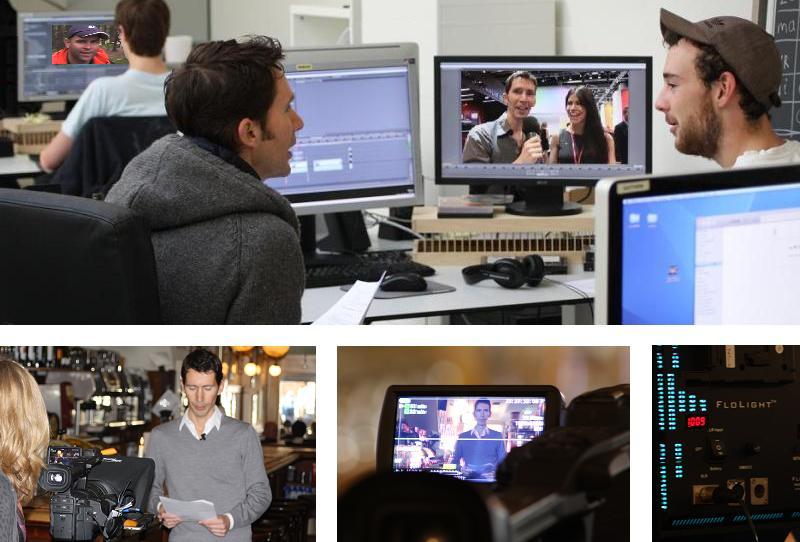 With extra time to spend on the preparation of each project, where the customer makes their wishes known, we can implement faster and more efficiently. The continues communication with the customer ensure quality and product delivery on time. LA Productions offers premium voice-overs to its customers, known from TV programs.
Why use a voice-over?
A voice-over can be a very effective addition to your company introduction film or movie. It is often a cost efficient option than using a presenter. The result can often be just as effective. LA Productions also offers professional presenters with experience from prime-time TV programs.
More sales through a voice-over
If you choose the right voice for your production, your will gain your audience trust and thereby encourage their buying behavior.
Are you looking for a photographer?
LA Productions also offers photographers for any type of job. Our photographers take pictures for shops, catalogs, brochures, flayers, advertisements and websites. Please
contact LA Productions
for more information and quotations.
Voice-over Lex van Leeuwen, LA Productions, More Lady Gaga at RayKay.com
LA Productions produces voice-overs for RTL 4 In Over de reling. TV host Arno Raymakers are ten weeks aboard the Grand Princess, a majestic American five-star cruise ship with 3000 passengers and 1000 crew.

RTL 4 is a commercial television station in the Netherlands. It is the most-watched commercial station in the country, popular especially with those aged between 20 and 49. The station has three sister tv channels: RTL 5, RTL 7 (previously Yorin) and RTL 8 (previously Tien / Talpa). From May 1991 until September 2006, the station has had several accompanying radio stations, such as RTL 4 Radio, RTL Radio, RTL Rock Radio, Happy RTL, and RTL FM. Since October 1, 2007 it owns Radio 538, one of the largest radio stations of the Netherlands.

It originally launched on the Astra 1A satellite as RTL Veronique on October 2, 1989, before re-branding as RTL 4 (after 1, 2 and 3 were already used by the Netherlands' public broadcasters) the next year. It was one of the first private commercial broadcaster in the Netherlands. Officially, it still broadcasts from Luxembourg (private broadcasters were not allowed to originate from the Netherlands until 1992). The encryption system employed by both RTL 4 and 5 analogue services whilst on the Astra 1A and 1C satellites was Luxcrypt. This standard was employed (mainly on the English language programmes carried with Dutch subtitles) in order to protect the distribution rights sold by foreign studios to RTL.

RTL 4 broadcasts the first and the longest soap of the Netherlands, Goede Tijden, Slechte Tijden since October 1, 1990.

RTL 4's latest radical change of programming was on 18 August 2007 when RTL obtained the most important sport-soccer rights (Eredivisie,But loses the right in 2008 to the NOS. Hits on RTL 4 include the Evening News (RTL Nieuws), Editie NL, RTL Boulevard and the Saturday Night Family Show Ik Hou Van Holland. Idols was also very popular.

RTL 4 plans to become a family favourite on Saturday night with Idols, X Factor, Dancing with the Stars and Dancing on Ice, Ik Hou Van Holland, a quiz-show around and about the Netherlands with Linda De Mol. The show is very popular, and still running with a seventh season coming begin 2011.

From 2009, the X-Factor has been re-scheduled successfully to Friday night with higher ratings in Season 2 (2009) and Season 3 (2010) on Friday. In 2010, RTL 4 took the rights over from SBS6 for broadcasting Holland's Got Talent and create in the Autumn together with John De Mol their own Talent show The Voice of Holland, with ratings around 3 million viewers every Friday Night is this the most successful talent show ever on Dutch Television.

RTL 4 plans to become more interactive with its viewers with Life 4 You, episodes shown on Sunday afternoons on the relaunched network.

RTL 4 also bought the rights for the soaps As the World Turns and The Bold and the Beautiful. In January 2007, RTL sold the rights to B&B to SBS6, but sold the rights back in December 2010. With more money and space to buy other tv shows, RTL 4 bought the rights for the successful drama show Brothers & Sisters and took over CSI: Miami.
LA Productions delivers professional presenters and produces voice-overs for OUTTV. OUTTV is a general lifestyle and entertainment channel that offers a wide array of programming including dramas, comedies, talk shows, documentaries, films and more. Although OUTTV is a premium television service, commercials are shown, however they are shown at the end of the program, not to interrupt the program.

OUTTV is a Dutch language premium digital cable specialty channel from the Netherlands and is the lifestyle television channel from the Netherlands and Belgium and soon also Sweden and Switzerland. OUTTV originally launched on KPN on April 4, 2008 and widely became available on April 11, 2008, launching on several other television providers. Depending on the provider, OUTTV broadcasts 24/7 or daily between 11:00 and 23:00 hours.

OUTTV was originally a collaboration with the world's first 24 hour LGBT television channel, Canada's OUTtv, licensing it's brand and much of its programming. However, much of OUTtv Canada's programming has since been removed from the channel.

Noted series: Bump!, Six Feet Under, Beautiful People, Dante's Cove, Golden Girls, Noah's Arc, Mile High, RuPaul's Drag Race, Queer as Folk, Misfits and the A-list.
| | |
| --- | --- |
| LA Productions produces voice-overs for AT5. AT5 is the local news and current affairs TV channel of Amsterdam. AT5 is the main source of information for Amsterdam and nearby cities. | |